We'll be staying at the Kimpton Nine Zero from Thursday through Sunday and have organized a room block there for you all to stay with us. We'll provide shuttles to and from the Kimpton for activities throughout the weekend (see the "Home" page for more details).
However, the price of the room block rose when travel picked back up and two graduations in Boston were rescheduled to our wedding weekend. While many of you are already booked at the Kimpton, we've provided a few other recommendations of places to stay below at lower price points for those who prefer to go that route! You can of course check Airbnb and Hotels.com for additional options as well.
Kimpton Nine Zero Hotel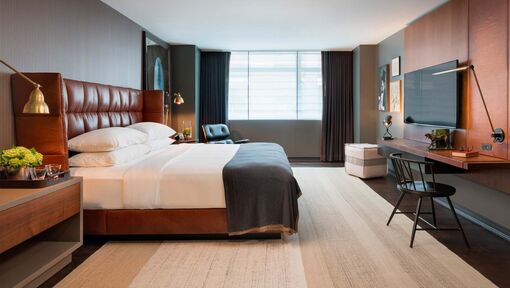 90 Tremont St, Boston, MA, US
Check-In:

Thursday, September 30, 2021
|
Check-Out:

Sunday, October 3, 2021
Join us in the heart of Boston at the Kimpton Nine Zero hotel! We'll have shuttles between the hotel and many of the weekend's activities including the wedding itself. Note that the Kimpton is a 10-15 minute drive from the wedding venue.
The Godfrey Hotel Boston
505 Washington St, Boston, MA 02111, USA
(617) 804-2000
This hotel is a short walk from the Kimpton and a bit less expensive. It's ideal if you're looking to take the shuttles we're providing throughout the weekend to and from the Kimpton.
Aloft Boston Seaport District
401-403 D St, Boston, MA 02210, USA
(617) 530-1600
This hotel is a half mile walk from the wedding venue and a bit less expensive than the Kimpton. It could be a good option if you're only staying in Boston on Saturday night.
The Revolution Hotel
40 Berkeley St, Boston, MA 02116, USA
(617) 848-9200
This hotel is a mile away from the Kimpton, but it's a lower-priced option in the beautiful neighborhood of the South End (where we live)! It'll require an Uber ride to the wedding venue.